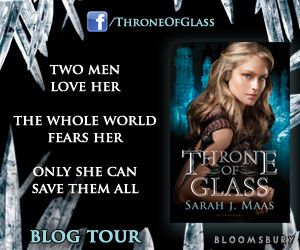 Questions for Celaena (Protagonist of Throne of Glass)
Mindy:
Thanks for stopping by! I have grown to admire you as a kick butt heroine. But I'd like to learn more about you before competition.
Mindy:
You amazingly survived a lot longer than most while being imprisoned at Endovier. What types of things did you have to do to survive?
Celaena:
Honestly, I don't particularly like talking about Endovier--about the things I did, the things I saw, the things I endured. I did certain things to survive, but I also did some things out of rage and despair. Don't tell anyone this, but deep down, I'm not particularly proud of the things I did out of the latter emotions.
Mindy:
As an assassin, what was your hardest kill?
Celaena:
There's a difference between hardest to kill and the hardest kill emotionally. When I was younger, there was one kill that I nearly botched (of course, I wound up succeeding in the end), but when I was seventeen, I killed someone that... Well, they didn't deserve to be killed. I did my job perfectly, but...let's just say that I was deceived and leave it at that.
Mindy:
If you are made the king's Champion, what is your worst fear that he will force you to do?
Celaena:
Hurt the people I care about. I'll do anything to avoid having to do that.
Mindy:
Thank you for stopping by Celaena, it is an honor!!!
Sarah J. Maas is a New York native who currently lives in the California desert. This is her first novel, though she has a large on-line fanbase who eagerly support her writing.
Website ★ Facebook ★ Twitter
Questions for author Sarah J. Maas
Mindy:
Now for you Sarah! Thank you for stopping by Magical Urban Fantasy Reads! I'm more than thrilled to have you.
Mindy:
Which was your favorite character to write and why?
Sarah:
Celaena. She's so much fun to write, and always surprises me (even after so many years). Though I also love writing Chaol's scenes. <3
Mindy:
How long was the publishing process for you?
Sarah:
I began writing this series in 2002, so from inception to publication, it's been 10 years!
Mindy:
I know that Throne of Glass is your first published debut, but did you write anything before Throne of Glass?
Sarah:
ToG was my first completed book, but because I've been working on this series for so many years, I actually wound up writing well over a dozen manuscripts in between drafts, revisions, etc.. So, those manuscripts are now just sitting on my computer, waiting for their turn to be published. ;)
Mindy:
Do you have any ideas for other books you want to write?
Sarah:
Well, I have a Beauty and the Beast/East of the Sun West of the Moon retelling that I'm hoping to get published at some point. But in terms of ideas for books I've yet to write, I have a BUNCH of ideas simmering in the back of my mind right now. ;)
Mindy:
Is there going to be a sequel or series?
Sarah:
Yep! Book Two should be out sometime next year (I think), and if I'm blessed by the publishing gods, the THRONE OF GLASS series will be about six books long. :)
Here is a quick Q&A to get to know you more!
Mindy:
Fear or phobia?
Sarah:
Underwater caves. Can't explain why, but it's my ultimate nightmare to be trapped in an underwater cave.
Mindy:
Guilty pleasure?
Sarah:
Carbs. Lots and lots of carbs.
Mindy:
Preferred weapon?
Sarah:
A frying pan (a la TANGLED!)!
Mindy:
Top 5 authors that inspire you?
Sarah:
Melina Marchetta, Patricia A. McKillip, J. K. Rowling, James Clemens, and Garth Nix.
Mindy:
Top 5 books recommends you recently read?
Sarah:
SOMETHING STRANGE AND DEADLY by Susan Dennard
LEGEND by Marie Lu
SKYLARK by Meagan Spooner
TAKEN by Erin Bowman (out April 2013)
BOUND by Erica O'Rourke
All amazing, amazing books.
Mindy:
Favorite TV show when you were a kid?
Sarah:
When I was reaaaaally little, I was pretty obsessed with Duck Tales. And then when I was in middle school (and early in high school), Sailor Moon and Buffy were my favorites.
Mindy:
Which would you be willing to kiss, scares you the most and willing to ally with in an apocalypse? Between aliens, vampires, werewolves, zombies, faeries and demons.
Sarah:
Alien during the apocalypse, because they'll probably have super-advanced technology to help me survive (or they can just fly me off the planet)!
Zombies scare me the most. Definitely scare me the most.
I think I'd want to kiss a demon...the sexy kind of demon (not the scary kind). ;)
Mindy:
Thank you so much Sarah J. Maas for stopping by! YOU ROCK!!!
Amazon ★ Barnes & Noble ★ Book Depository
Publisher's summary: After serving out a year of hard labor in the salt mines of Endovier for her crimes, 18-year-old assassin Celaena Sardothien is dragged before the Crown Prince. Prince Dorian offers her her freedom on one condition: she must act as his champion in a competition to find a new royal assassin.

Her opponents are men-thieves and assassins and warriors from across the empire, each sponsored by a member of the king's council. If she beats her opponents in a series of eliminations, she'll serve the kingdom for three years and then be granted her freedom.

Celaena finds her training sessions with the captain of the guard, Westfall, challenging and exhilirating. But she's bored stiff by court life. Things get a little more interesting when the prince starts to show interest in her... but it's the gruff Captain Westfall who seems to understand her best.

Then one of the other contestants turns up dead... quickly followed by another. Can Celaena figure out who the killer is before she becomes a victim? As the young assassin investigates, her search leads her to discover a greater destiny than she could possibly have imagined.