I was super excited when Angeline wanted to include me in her blog tour for the debut of the first book in her Vampire Born Trilogy,
Descended by Blood
! If you haven't met Angeline, then she is someone you will have to get to know! You can find her blog at
http://www.angelinekace.com/
and
twitter.com/Angeline_Kace
.
Angeline is one of my faves to just chat with on twitter. She is super funny and very sweet! We have this little joke that we now include in a lot of our tweets and I even talked about in another blog post. The joke came about one night when Angeline got a sugar high and was super delirious on Swedish Fish. I think she said she only ate 5! LoL... So I started a little chat with her about it. In one of her tweets during her sugar high she was meaning to tweet OMG and she tweeted PMg...we both found it pretty funny so from this point on we always say PMg instead of OMG to each-other. I have tried to come up with something that PMg would mean, but I haven't come up with that one yet, so if you have any suggestions, send over the 411!
Once again I wanted something super fun and unique for her blog tour stop so I asked her a question and here it is.
Bookluvr Mindy:
You are kidnapped and dropped off on a island. You are then approached by a group of talking animals and they tell you that you have to pick an animal that you will be transformed into for the rest of your life. If you don't choose, you will be turned into something that you most fear. What animal would you choose and why? What animals would the characters in your book choose and why? AND what animal would you most fear to be turned into?
Angeline's Reply: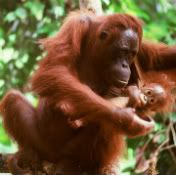 Wow! This would creep me out in real life. I would have to say I would like to be turned into a monkey. I've liked monkeys for as long as I can remember. In elementary, we had to write a book, complete with pictures drawn by us of our animals (I must say I had mad skills with the red crayon), and I did the orangutan. Born to Be Wild, about a gorilla, was my favorite movie when I was younger. I watched it all the time, and every time I watched it, I'd cry. Plus, I think monkeys are the closest thing to humans that there is. I mean, a dolphin's smart, but I would NOT want to live under water.
Mindy's comment: Mindy's comment: "As a kid I ♥♥♥ monkeys. When I moved out into my first apartment I had so many monkeys that they completely covered the floor in my walk-in-closet and I was determined that one day I would have a spider monkey as a pet."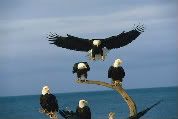 Brooke:
"Oh, this is a tricky one. I've always thought it would be cool to be a bird. To be able to fly, and see everything with such excellent eyesight would be amazing. I wouldn't want to be just any bird, though. I would prefer to be a bird of prey. That way, I'm the hunter, not the hunted. So, either an Eagle or a Falcon: a Falcon because they're FAST, and an eagle because they sometimes hunt as a team. I guess I would have to go with Eagle because if they could hunt with another Eagle, then that means that they're not completely solitary creatures. I like to have someone around, so I think that would be the best fit for me. And then if Kaitlynn chose the same thing, we could be a hard core Eagle hunting team."
Mindy's comment: "Pwitty bwird…pwitty bwird. I don't know about being a bird, when I think of flying all I think about is how badly I get motion sick."
Jaren:
"Well, speed is revered in lacrosse, so I would have to say I'd choose to be a cheetah. I'm always working on increasing how fast I can run, so if I had to choose an animal to be turned into, I would like to pick something where I didn't have to work so hard to be fast."
Mindy's comment: "Oooo! Cheetahs are freakin' awesome! And I am highly impatient so being able to get somewhere fast would be fabulous. My impatience is the reason I have had so many speeding tickets and my license was taken away when I was 17."
Mirko:
"Ah, well first, I would consider slashing each group member's throat. But if that was out of the question, I would have to choose a crocodile. They've been around for ages, so they have the whole survival thing down. They're basically running around all the time with shields, you know, because their skin is so rough and they have the plates along their head and backs for protection. And they run fast. They're mostly water creatures, but they still do a top job of surviving on land. Crocodiles are also fierce animals. They have been known to attack and kill sharks. That's how I would want to be known if I were an animal. Fierce."
Mindy's comment channeling Steve Irwin: "Crikey mate!! She's a beauty!"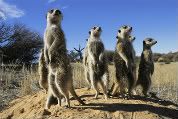 Kaitlynn:
"I would have to brain storm with Brooke to make sure we chose the same thing. But I would suggest that we both become meerkats. Have you seen that show, Meerkat Manor? They have a social structure and everything. Their like little humans, but with fur and claws. And they appear to be pretty smart animals, too."
Mindy's comment: "I haven't seen Meerkat Manor but I found a trailer and it made me chuckle so I added it below."
Angeline's Fear:
Okay, so what animal would I fear to be turned into? There are a lot of animals that I would hate to be, but I would have to say a sloth beats out all of them. They are so slow, and their whole day is spent searching for food and eating it, just so they can maintain the treacherous searches for food. You know that mid-afternoon crash you get? Where all you can think about is putting your head down on your desk and passing out, and it takes every ounce of strength to keep your eyes from fluttering and then closing for good? Well, that's how I imagine a life as a sloth would be. All day long. Every, single day. I would probably just give up and go to sleep for good. Screw that struggle. That would be torture.
Mindy's comment: "PMg! I don't think I could handle a life like that! I think I would rather lay down and starve to death!"
Thank you so much for having me, Mindy! You always come up with the most creative things for your blog tours, and it has certainly been an honor for me to stop here today.
It's me Mindy again! Isn't she fabulous and super creative! I ♥ Angeline Kace and I think we could be life long buddies. Hopefully we can meet one day. So be sure to check our Angeline's blog at
http://www.anglinekace.com/
and
twitter.com/Angeline_Kace
and grab a copy of
Descended by Blood
!
AND...Don't forget to enter her giveaway by going to HERE!
Follow the rest of Angeline Kace' Descended by Blood Tour here!

Here's that Meerkat Manor trailer I was talking about!