The official blurb:
By blood, by word, by magic…
Most can't touch the power. But Liv Warren is special— a paranormal tracker who follows the scent of blood.
Liv makes her own rules, and the most important one is trust no one.
But when her friend's daughter goes missing, Liv has no choice but to find the girl. Thanks to a childhood oath, Liv can't rest until the child is home safe. But that means trusting Cam Caballero, the former lover forbidden to her.
Bound by oath and lost in desire for a man she cannot have, Liv is racing to save the child from a dark criminal underworld where secrets, lies, trauma and danger lurk around every corner…every touch…every kiss.
And more blood will be spilled before it's over…
There were several fabulous books released this week and
Blood Bound
was one of them! Doesn't it sound super good? I just purchased the
Soul Screamers Series
because I have heard nothing but fabulous stuff about them...particularly from
Fiktshun
. And I'm also super excited to see Rachel Vincent at the
Smart Chicks Kick It
tour that I will be going to in Seattle on October 2nd! So I am really looking forward to getting my own copy of
Blood Bound
as well!
You can purchase Blood Bound at BN.com by clicking on the image below!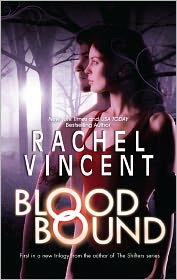 Watch the trailer here!