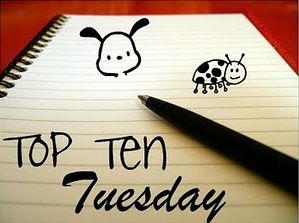 Top Ten Tuesday is an original feature/weekly meme created and hosted at
The Broke and the Bookish
.
Each week they have a new topic! Check out their future topics
HERE
!
"How's your orange juice, Ann? Does it have a touch of Lime?"
The glass paused at my lips as I processed his innuendo, and I took a second to make sure my embarrassment stayed hidden inside. I let the drink swish over my tongue a moment before swallowing and answering.
"Actually it's a little sour," I said, and he laughed.
"That's a shame." He picked up a green pear from his plate and bit into it, licking juice that dripped down his thumb. My cheeks warmed as I set down my glass.
"OK, now you're just being crude," I said.
He grinned with lazy satisfaction.
"I have no idea what you're talking about. I'm just enjoying my breakfast."
"So your perfect proposal, what would it be?" Ben asks.
"Seriously?" I look at Poblete and she shrugs, obviously enjoying the real-world application. "I don't know. It would just be the two of us, and I guess I'd want him to say something honest, not overly romantic, not something that would make a great story to tell his friends. I'd just want him to lean over…" As I say it, I lean slightly toward Ben, close enough that I can feel the warmth of his body radiating into the empty space between us, and drop the volume of my voice. "…and say "Janelle Tenner, f*cking marry me.""
"Have you fallen in love with the wrong person yet?"
Jace said, "Unfortunately, Lady of the Haven, my one true love remains myself."
..."At least," she said, "you don't have to worry about rejection, Jace Wayland."
"Not necessarily. I turn myself down occasionally, just to keep it interesting."
"I heard the man and woman cry a warning as I frantically racked my brain for some sort of throat-repairing spell, which I was clearly about to need. Of course the only words that I actually managed to yell at the werewolf as he ran at me were, 'BAD DOG!'
Then, out of the corner of my eye, I caught a flash of blue light on my left. Suddenly, the werewolf seemed to smack into an invisible wall just inches in front of me....
"You know," someone said off to my left, "I usually find a blocking spell to be a lot more effective than yelling 'Bad dog,' but maybe that's just me."
"Don't blame us," said my mother. "We didn't blow up half of Court, steal a dozen cars, call out a murderer in the middle of a crowd, or get our teenage friend crowned queen."
"Actually," said Abe, "I did blow up half of Court."
"Adam stares at me so long I begin to blush. He tips my chin up so I meet his eyes. Blue blue blue boring into me. His voice is deep, steady. "I don't think I've ever heard you laugh."
He's so excruciatingly correct I don't know how to respond except with the truth. My smile is tucked into a straight line. "Laughter comes from living." I shrug, try to sound indifferent. "I've never really been alive before."
"Got your gun?"
"No," says Tobias, "I figured I would shoot the bullets out of my nostrils, so I left it upstairs."
"Oh, shut up."
"Really, the combination of the scabs and the ointment looks hideous. I can't help enjoying his distress.
"Poor Finnick. Is this the first time in your life you haven't looked pretty?" I say.
"It must be. The sensation's completely new. How have you managed it all these years?" he asks.
"Just avoid mirrors. You'll forget about it," I say.
"Not if I keep looking at you," he says."
"You know what?" His breath was warm against my cheek. "There are a lot of stupid things to do, but I really want to do the stupidest thing possible."
"What's that?"
"I want to kiss you."
"Was that the girl who went to Manhattan with you?" asked Marcus. "I think we owe her a cookie."
"I think we owe her a whole damn bakery," said Xochi. "If I wasn't hip deep in mud, I would kiss her on the mouth."