In less than a month,
Nancy
from
Ravenous Reader
and I will be packing our bags to head to The City That Never Sleeps. Yep, only 30 days from now we are going to be facing the excitement and craziness of BEA!
To celebrate our excitement for this fabulous event, we've decided to do a countdown and share some of the authors we are excited to see, the books we hope to see, and the food we plan to eat…the works!
First up is Wendy Higgins! The moment I started reading Wendy Higgins' Sweet Evil, I became a super-fan. We even Co-Hosted a Sweet Evil Read-Along because we really wanted Wendy to write and publish a second book in this series. So we were super ecstatic the day she signed for two more books in the series, and now we have 3! You can find my review of Sweet Evil
HERE
.
About the Author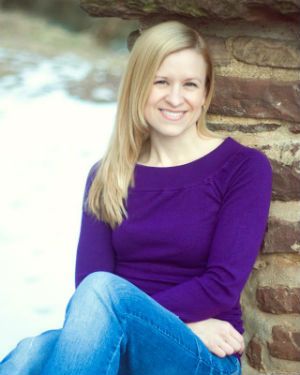 After earning a bachelors in Creative Writing from George Mason University and a masters in Curriculum and Instruction from Radford, Wendy taught high school English until becoming a mommy. Writing Young Adult stories gives her the opportunity to delve into the ambiguities of those pivotal, daunting, and exciting years before adulthood. She lives in Northern Virginia with her husband, daughter, and son. Sweet Evil is her debut novel.
☆ ☆ ☆ ☆ ☆ ☆
The First Book!
Publisher's summary:
Embrace the Forbidden
What if there were teens whose lives literally depended on being bad influences?
This is the reality for sons and daughters of fallen angels.
Tenderhearted Southern girl Anna Whitt was born with the sixth sense to see and feel emotions of other people. She's aware of a struggle within herself, an inexplicable pull toward danger, but Anna, the ultimate good girl, has always had the advantage of her angel side to balance the darkness within. It isn't until she turns sixteen and meets the alluring Kaidan Rowe that she discovers her terrifying heritage and her willpower is put to the test. He's the boy your daddy warned you about. If only someone had warned Anna.
Forced to face her destiny, will Anna embrace her halo or her horns?
The Second Book!
Publisher's summary:
Anna Whitt, daughter of a guardian angel and a demon, promised herself she'd never do the work of her father—polluting souls. She'd been naive to make such a claim. She'd been naive about a lot of things. Haunted by demon whisperers, Anna does whatever she can to survive, even if it means embracing her dark side and earning an unwanted reputation as her school's party girl. Her life has never looked more bleak. And all the while there's Kaidan Rowe, son of the Duke of Lust, plaguing her heart and mind.
When an unexpected lost message from the angels surfaces, Anna finds herself traveling the globe with Kopano, son of Wrath, in an attempt to gain support of fellow Nephilim and give them hope for the first time. It soon becomes clear that whatever freedoms Anna and the rest of the Neph are hoping to win will not be gained without a fight. Until then, Anna and Kaidan must put aside the issues between them, overcome the steamiest of temptations yet, and face the ultimate question: is loving someone worth risking their life?
The Third Book!
Evil is running rampant and sweet Anna Whitt is its target. Nobody knows when or how the Dukes will strike, but Anna and her Nephilim allies will do anything necessary to rid the earth of the demons and their oppressive ways.
The stakes are higher than ever, and Anna is determined that the love she feels will be her strength, not a liability. But trying to protect the ones she loves while running for her life and battling demonic forces proves to be perilous—especially as faces are changing and trust is fleeting. When the Duke of Lust sends Anna's great love, Kaidan Rowe, to work against her, Anna must decide how much she's prepared to risk.
In the most sensual and fast-paced installment yet, Sweet Reckoning brings all the beloved Neph together one last time to fight for their freedom.
Coming Soon!
This swoonworthy, romantic companion novel to Wendy Higgins's New York Times bestselling Sweet Evil series is told from irresistible bad-boy Kaidan's point of view. Readers will love getting inside Kaidan's head, especially fans of the Divergent series by Veronica Roth, the Selection series by Kiera Cass, and Walking Disaster by Jamie McGuire.
When bad-boy drummer Kaidan Rowe encounters good girl Anna Whitt, the girl chosen to vanquish the demons from earth, he can't stop thinking about her. The Nephilim son of the Duke of Lust, Kaidan tries to help Anna embrace a life of sin, but she gradually helps him see that he's meant to do more with his life. Their relationship is as tortured as it is passionate, for Nephilim are forbidden to fall in love. But as hard as they may try to obey, Kai can't seem to stay away from Anna, nor Anna from Kai.
Full of chemistry and high-stakes drama, this companion book is darker, hotter, and completely satisfying.
BEA 2015
Wendy Higgins is scheduled for an Autographing Session on Thursday, May 28th from 10:30 AM - 11:00 AM at Table 12.