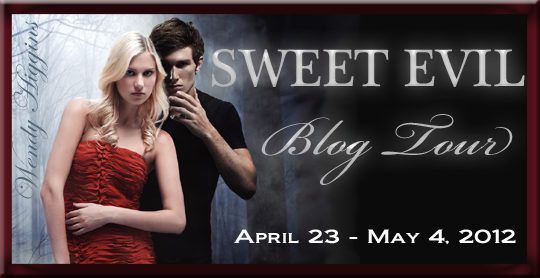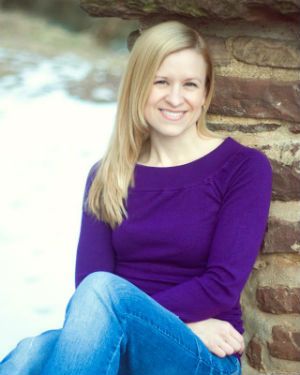 You can find Wendy Higgins here:
After earning a bachelors in Creative Writing from George Mason University and a masters in Curriculum and Instruction from Radford, Wendy taught high school English until becoming a mommy. Writing Young Adult stories gives her the opportunity to delve into the ambiguities of those pivotal, daunting, and exciting years before adulthood. She lives in Northern Virginia with her husband, daughter, and son. Sweet Evil is her debut novel.
As some of you are already aware, I am a majorly obsessive fan of
Sweet Evil
! To top it all off,
Sweet Evil
has the hottest of all of my fictional boyfriends! Kai is so unbelievably yummy! So obviously I'm more than excited that I had the opportunity to be a part of Wendy Higgins blog tour!!! You can find my review of
Sweet Evil HERE
!
Me:
In 10 words or less can you tell us about
Sweet Evil
?
Wendy Higgins:
A dark, sensual love story infused with angel/demon lore.
Me:
How did the idea of
Sweet Evil
come to you?
Wendy Higgins:
Like a freight train to the brain. Seriously though, I think this is the hardest question to answer because I just don't know. It was like all of my life's experiences, all my hopes and failures, the people I'd known, the books I'd read, my spirituality, my desire to do something more with my life--it all sort of came together in that moment and I was bombarded with ideas and scenes. I spent the whole first day brainstorming, accepting some ideas, throwing others out. It was a rush of inspiration unlike anything I'd ever experienced. I wrote and wrote for seven weeks and then collapsed at around 82k, finished.
Me:
Was there any research involved in writing
Sweet Evil
?
Wendy Higgins:
I read a lot about the folklore surrounding angels and demons, including Biblical commentary (although I ended up making up lots of stuff and taking liberties with names, etc). I also had to research the cross-country trip to map it and time it.
Me:
How long did it take to write
Sweet Evil
?
Wendy Higgins:
The first draft took seven weeks, but as "inspired" as it was, it was terrible. Atrocious. It needed a TON of work, so I spent the next year rewriting, deleting, rewriting, revising.
Me:
There is a very detailed scene (very hot) in the book where Kaidan is playing the drums. Did you have to study a sexy drummer to get the details of that scene?
Wendy Higgins:
Haha! Love it. In seventh grade this very quiet boy got on stage during a talent show and shocked me to the core with a passionate rendition of Tone Loc's "Wild Thing." I couldn't look at him the same after that. He was suddenly mysterious and dangerous, rather than shy. I've had a weakness for drummers ever since.
Me:
Which character was your favorite to write about and why?
Wendy Higgins:
Anna is my sweet girl, but Kaidan was the most fun to write. He challenged me and got in my head. I know his full story and deepest desires, but he is so guarded. It was hard to figure out how he would act to show his underlying feelings, while not giving them away verbally. Exhausting, that boy.
Me:
Will
Sweet Evi
l be a series or have a sequel?
Wendy Higgins:
In my mind it's "
The Sweet Trilogy
." Book two is under consideration with the publisher, and I hope to start book three very soon.
Me:
*fingers crossed* They better purchase the trilogy! I need more!!! Reading
Sweet Evil
over and over again is not enough!
Me:
Do you have any ideas for another book or series?
Wendy Higgins:
I've got a book written that still needs a little work. It's set in Ireland and centered around a magical family, faeries, and Leprechauns.
Me:
Wendy, I'd like to learn more about you!
Me:
Other than being a writer, what would be your all time dream job?
Wendy Higgins:
Ooh, how awesome would it be to be one of those people who travels the world to critique hotels and five-star restaurants? Yes, please!
Me:
What do you like to do in your spare time other than writing?
Wendy Higgins:
Read! But those go hand-in-hand.
My biggest joy is spending time with my children. Watching them learn and grow. Sometimes I go on dates with my cutie husband, and that's always fun. :) Every now and then I even get to have a girls' night out with my girlfriends - woohoo!
Me:
What is your guilty pleasure?
Wendy Higgins:
Hardback books. And new clothes.
Me:
Do you have any strange quirks?
Wendy Higgins:
How much time do we have? lol
My worst quirk is just zoning out to imagination-land at inconvenient times (you know,writing a scene in your head while someone is trying to have a conversation with you? It's terribly embarrassing.) I'm also ADD, so I have to write in silence, alone.
Me:
What is your biggest fear or phobia?
Wendy Higgins:
I have too many. Most of them have to do with freak-accidents that could befall my kids--I've discovered I have a very demented imagination when it comes to ways to die. But personally, my absolute biggest fear is spiders. Especially those fuzzy, hairy ones. I can't even look at pictures or watch them on television. *violent shiver*
Me:
Do you have a favorite TV series?
Wendy Higgins:
No. :( I used to, but to be honest I haven't watched anything regularly for two years. I used to watch television every night with my husband, but now those are my "work hours." And I'm not a fan of daytime TV or news, so it'
Me:
What are your top 5 favorite movies?
Wendy Higgins:
The Shag (as in the dance from the 60's - adorable beach movie!!)
Lucky Number Slevin
Pearl Harbor (can you tell I'm a Josh Hartnett fan?)
The Goonies
The Lost Boys
Me:
What are your top 5 favorite books of all time?
Wendy Higgins:
Okay, I'll break it down by genre/topic:
(children/Middle Grade) Harry Potter series
(YA contemp/friendship) Sisterhood of the Traveling Pants series
(adult romance) The Fever series by Karen Marie Moning
(nonfiction) The Hiding Place by Corrie Ten Boom
(YA para-romance) Toss-up between Twilight and Vampire Academy
Me:
What are your Top 5 highly recommended books you have read in the last couple years?
Wendy Higgins:
Divergent
Shatter Me
Thirteen Reasons Why
The Hunger Games
The Summer I Turned Pretty (all 3)
Me:
Name your Top 3 authors that inspire you.
Wendy Higgins:
Richelle Mead, Veronica Roth and Karen Marie Moning
Me:
Do you have a fictional boyfriend from another book or book series?
Wendy Higgins:
I have MANY. :)
Dimitri from
Vampire Academy
, Four from
Divergent
, and Po from
Graceling
to name a few.
Me:
Imagine our world dominated by demons, vampires, zombies and werewolves. What weapons would you keep on hand for survival? And if you would have to ally yourself with one of these creatures, which would you side with and why?
Wendy Higgins:
Wowza! As for weapons, a cross/crucifix might kill two birds with one stone (demons & *traditional* vampires). But how the heck do you kill a zombie? I think I'd need to find a sledgehammer, and practice my swing. I'd ally with the werewolves since they've got the whole "loyal dog" thing going on. I wouldn't trust any of the others...especially the demons.
Me:
LMFAO..."Loyal Dog"
Me:
Thank you so very much Wendy for stopping by Magical Urban Fantasy Reads and I hope that you will be able to stop by again soon! I'd really like to do a Q&A with one of your characters one day.
Wendy Higgins:
Sounds awesome! And it's been my pleasure. :) Thanks for having me, Mindy!
Publisher's Summary: Embrace the Forbidden
What if there were teens whose lives literally depended on being bad influences?
This is the reality for sons and daughters of fallen angels.

Tenderhearted Southern girl Anna Whitt was born with the sixth sense to see and feel emotions of other people. She's aware of a struggle within herself, an inexplicable pull toward danger, but Anna, the ultimate good girl, has always had the advantage of her angel side to balance the darkness within. It isn't until she turns sixteen and meets the alluring Kaidan Rowe that she discovers her terrifying heritage and her willpower is put to the test. He's the boy your daddy warned you about. If only someone had warned Anna.

Forced to face her destiny, will Anna embrace her halo or her horns?
Check out the other tour stops!
4/23 -
Supernatural Snark
4/24 -
i'm loving books
4/25 -
Live To Read
4/26 -
Books of Love
4/27 -
My Overstuffed Bookshelf
4/28 -
Two Chicks On Books
4/29 -
Magical Urban Fantasy Reads
(You're Here)
4/30 -
Uniquely Moi Books
5/1 -
Books with Bite
5/2 -
Hooked to Books
5/3 -
Late Bloomer Online
5/4 -
fiktshun