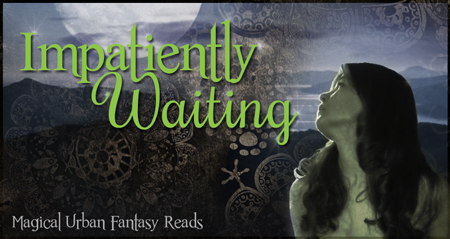 Expected Published Date: February 28th, 2012
Publisher's Summary:
Eden won the battle-she saved her true love from the darkest evil. But the war has only just begun. With secrets swirling around her, powerful allies unraveling, and life-and death-as she knows it eroding, Eden and those she loves tread dangerous ground. Can she trust anyone? Will her unearthly powers be her salvation or her downfall? A sweeping, dark, and sexy paranormal romance that will haunt readers with an inventive mythology and a cinematic New York City filled with shadows and longing.
My Comments:
First I have to say...Don't you just L♥VE
A Touch Morbid
's cover??? I love that chicks hair! It makes me want to change mine!!! And I'm TOTALLY digging her eyeshadow and lipstick!
Anyways...I'm not only Impatiently Waiting
A Touch Morbid
but I'm also Impatiently Waiting
A Touch Mortal
!!! There are several bloggers that are a bit obsessive about
A Touch Mortal
and they are bloggers that I truly trust their judgment. So… I've been stalking Leah Clifford for a while now. A couple months back I sent Leah an email to inquire about purchasing signed copies because I was DETERMINED to get my copies signed. She then replied that she will have info about purchasing signed copies on her blog shortly.
I now have my copies of both
A Touch Mortal
and
A Touch Morbid
pre-ordered (with extra copies for giveaways) through
The Learned Owl Book Shop
but I have to wait until
A Touch Morbid
's release date to get my copy of
A Touch Mortal
! *Tears* I just might have to purchase ANOTHER copy of
A Touch Mortal
just so I can read it now! I just haven't decided yet.
Publisher's Summary:
Eden didn't expect Az.
Not his saunter down the beach toward her. Not his unbelievable pick-up line. Not the instant, undeniable connection. And not his wings.
Yeah.
So long, happily-ever-after.
Now trapped between life and death, cursed to spread chaos with her every touch, Eden could be the key in the eternal struggle between heaven and hell. All because she gave her heart to one of the Fallen, an angel cast out of heaven.
She may lose everything she ever had. She may be betrayed by those she loves most. But Eden will not be a pawn in anyone else's game. Her heart is her own.
And that's only the beginning of the end.
♥♥♥♥♥
Waiting on Wednesday is hosted by
Jill at Breaking the Spine
.